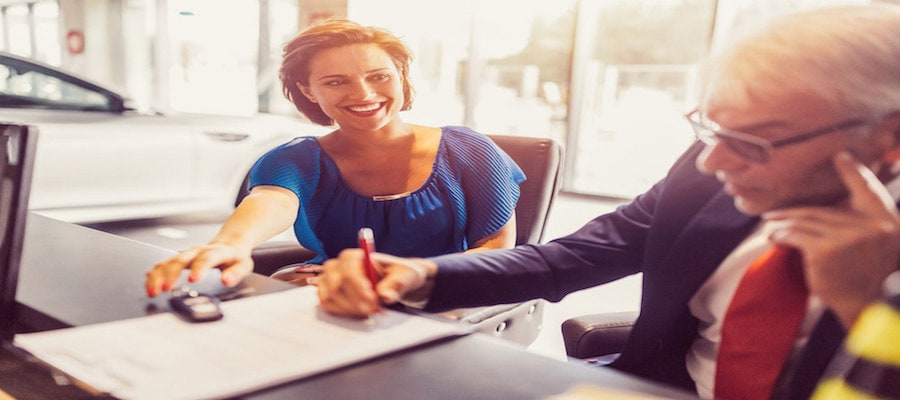 ---
Choosing the best car for your needs can seem like a daunting task, especially when you don't know where to start. To take the unknown out of the equation, we have laid out advice and suggestions on how to pick a new car or SUV.
Although it's ultimately a decision you will need to make yourself, don't hesitate to
contact the team
at Youngblood Chrysler Jeep to let us know what you are looking for, and we'll be happy to talk you through your options. If you are looking for more information on a specific model, you can also go to our
model research center
to read reviews and comparisons.
---
How Will You Use Your New Vehicle?
This is the most important question you will have to answer when choosing the right car for yourself. All other questions are just different variations of this.
Will this be your personal car, or will it be the family car? Personal cars can be compact, but family cars will need to be large.
Will you more often be ferrying passengers or belongings? With extra passengers, you should prioritize headroom and legroom, but for cargo you want folding seats and roof racks.
Is this car going to be your primary car, or is it just a fun weekend car? Your primary car should have good fuel economy and a smooth ride. If this is your weekend car, do you want to it to go fast, or do you want it to go off road?
This is how you will determine your priorities for your next new car.
---
Pick a Body Style
Our Chrysler Jeep dealership sells SUVs of all sizes alongside sedans and minivans.




The Jeep Renegade subcompact crossover is the most popular model sold at our dealership serving the Ozark, MO area, and the perfect size for most people. The full-size Chrysler 300 sedan and mid-sized Jeep Grand Cherokee SUV are good choices for small families, while the Chrysler Pacifica three-row minivan is an excellent choice for large families.
---
Premium or Economy?
Are you just looking for a vehicle to get you around, or do you want heated leather seats, interior wood trim, and all the best creature comforts?




The Jeep Patriot is the most affordable SUV in America, and the Jeep Renegade and Compass are also solid options if you want to get into a new Jeep for a good price. Meanwhile, the Chrysler brand provides high-end build quality and modern technology you won't find outside a luxury brand, and the Jeep Grand Cherokee can be equipped like a luxury model in top trims.
---
Fuel Economy or Horsepower?
If your priority is fuel economy, look to the compact crossovers in the Jeep line-up, which get as much as 30 MPG or more. Our dealership is also proud to carry the new Chrysler Pacifica, the industry's only plug-in hybrid minivan.




If your priority is horsepower, consider a Jeep Grand Cherokee. The 2017 edition can be equipped with a powerful gasoline V6, diesel V6, or V8 engine. Even more powerful V8 engines are available with the SRT® and Trackhawk trims.
---
What Technology Do You Want?
Choosing your car doesn't only involve digging into the specs. It also means making sure you'll be happy driving it. Small conveniences like a backup camera can drastically improve your ownership experience.




Other features you might enjoy include flip-down tailgate speakers-found in the Jeep Patriot, the Uconnect Theater rear entertainment system with built-in games-found in the Chrysler Pacifica, and semi-autonomous perpendicular and parallel parking-found in the Jeep Grand Cherokee.




Are you ready to start shopping? Head over to our

inventory

or call

(877) 469-8411

to speak with a product specialist.
---